Spiritual Healing and Healthy Relationships
Anubhuti Meditation and Retreat Center
820 Bel Marin Keys Blvd
USA
Weekend Retreat
Friday 6 pm to Sunday 2 pm
Our relationships with others are ultimately a reflection of our relationship with our self. When we know the 'real me' and our 'true potential' we realize our own self worth and value. Each of us is needed in the world, each of us has a gift to give to the world.
Understand how our inner world affects our relationships to others
Experience peace and stillness through meditation and reflection exercise
Create a new vision for healthy relationships
Know how to become free from negativity
Facil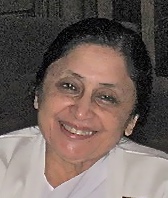 itators: Veena Kapoor and Elizabeth Padilla
Veena Kapoor, MSW, EdD, retired professor of Social Work and Womens' Studies at Fresno City College and CSU Fresno. She has extensive experience counseling families raising children with developmental disabilities and chronic illness. Veena is a student and teacher of Raja Yoga Meditation since 1992. She coordinates and conducts classes on various topics for spiritual growth and enrichment in Fresno, CA.
Elizabeth Padilla has been studying and teaching Raja Yoga Meditation since 1985. She has facilitated many seminars, workshops and value based programs, and is the program director at Anubhuti. Elizabeth is a talented singer and accomplished performing artist who touches hearts and souls through her work.
Includes shared accommodation with private bath, wholesome and delicious vegetarian meals, and snacks with tea/coffee breaks.
Note: You must register and be able to attend the full retreat in order to participate.
All workshops and retreats at Anubhuti are made possible by the generosity and contributions of the participants. To make your contribution now, click the PayPal button below. After checkout is complete, you will be redirected to this website.

Click the button below to register for Spiritual Healing and Healthy Relationships
+1-415-884-2314

Email: This email address is being protected from spambots. You need JavaScript enabled to view it.


Please Call to Visit
820 Bel Marin Keys Blvd., Novato, California 94949 USA
Please visit our online shop.
Click here.